Directions to Great Meadow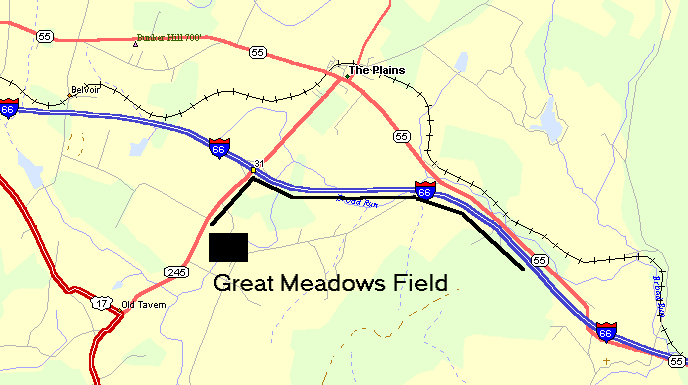 Directions to the flying field:
Travel on I-66 west to The Plains Exit #31
South on Old Tavern Rd. approximately 2 miles (Rt. 245) to Great Meadows;
Enter gate marked 'Rocket Launch' on left side of road;
Take the first left (immediately after you enter the Great Meadows property), which is a gravel road
Then take the first gravel road on the right, follow the signs to the launch area.
Park in the designated areas.
Or get your own directions:
All rockets will undergo a safety check before being allowed to fly at Great Meadows.:
NOVAAR Safety Check-in Officer Guidelines
NAR Safety Code
NAR High Power Safety Code
All high power flyers at a NOVAAR event must show proof of membership in
either the National Association of Rocketry ( NAR) or the Tripoli Rocketry
Association. Your membership card must show your high power certification
level. Those prerequisites exist at every NAR or Tripoli launch throughout
the country. If you are a member in good standing and certified, you may
fly at a NOVAAR event. We charge a launch fee of $1 per flight for
non-members. We limit motor size to J or less and our standard FAA waiver
is 4,500 feet AGL It is a club policy that packing the parachute be
witnessed by another individual similarly certified.
.
If you are not a member of either national organization, you must join one
or the other before competing the certification process. As NOVAAR is a
section of the NAR and we follow NAR guidelines in certifying individual
flyers. Information on certification can be found at
http://www.nar.org/high-power-rocketry-info/. If you need assistance, you
can contact the NOVAAR high power coordinator, Tim Bookwalter.
Non-high power flyers do not need to be members of the NAR or Triploi but must pay the $1.00
launch fee if they are not members of NOVAAR.